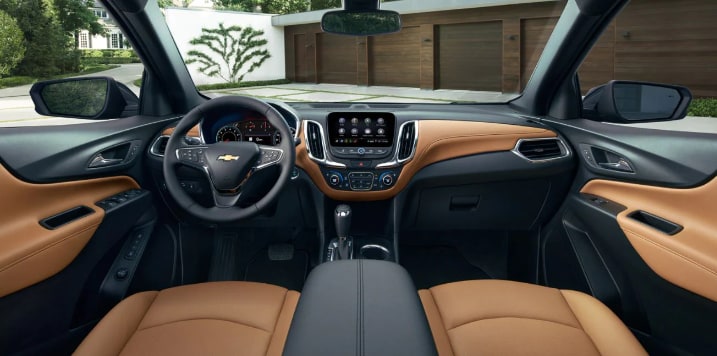 ?
One of the highlights of new cars, trucks, and SUVs is the modern technology that helps guide your vehicle and make your drive safer and more comfortable. When it comes to the latest auto tech, the 2022 Chevy Equinox is loaded. Here are a few of the best tech features in the new 2022 Chevy Equinox, brought to you by our experts at Keyes Chevrolet in Van Nuys, CA.
Top Chevy Equinox Tech Features
Wireless Connectivity with Smartphones: Although wireless connectivity is becoming more common in new vehicles, the 2022 Chevy Equinox kicks things up a notch. Wireless versions of Apple CarPlay®, Android Auto™, and Bluetooth® keep you connected to your smartphone and let you access features with your voice.
Chevrolet MyLink Infotainment System: Chevrolet MyLink is the cutting-edge infotainment system that comes standard in the 2022 Chevy Equinox, easily accessible with a 7.0-inch touchscreen or with voice commands. Amazon Alexa also comes built-in, so you can shop on Amazon with no more than your voice. A top-class Navigation Advisor is also built into the Chevy Equinox, giving you turn-by-turn directions completely hands-free. ?
Teen Driver Technology: If you are a parent with a new driver in your family, the Chevy Teen Driver system helps your teen build good driving habits while you control their access. To start things out, the Buckle to Drive function makes sure your teen is wearing their seat belt before they can pull out of the driveway. You can also set limits on speed and audio to keep your young driver safe and focused on the road.
See More Tech Features at Keyes Chevrolet in Van Nuys
If you're ready to see more features or get behind the wheel for a test drive, come see our friendly professionals at Keyes Chevrolet in Van Nuys. We're here to get you on the road!